June 29th, 2020 || Many believe that robots are a long way away, but Akara Robotics wants to prove them otherwise. With the launch of Stevie, the world's most advanced social robot and Violet, a UV robot clinically proven to kill germs and viruses, CEO Conor McGinn is not just selling a robot. He selling peace of mind. 
Read more on Hunniwell Lake Ventures COVID-19 Resources
Conor McGinn is the CEO and co-founder of Akara Robotics. After earning his PhD in robotics at Trinity College in Dublin, he became an assistant professor at the university and began to focus his research on advanced robotics and AI systems. He later co-founded Akara (meaning 'my friend' in the Irish language), a startup company dedicated to developing technology that empowers people, especially those working in the healthcare sector. In 2019, Akara launched Stevie, the world's most advanced social robot designed to work in retirement communities as a way to improve care outcomes for residents. Since its launch, Stevie has been placed in nursing home communities around the world in beta pilots and has made a profound impact on each of those communities. McGinn's work with Stevie has since made the cover of Time Magazine and has led him to be named in MIT Technology Review's Innovators Under 35 Europe list. More recently, Akara has launched Violet in light of the COVID-19 pandemic as an effective way to disinfect surfaces. Violet is an ultraviolet light robot that has been clinically proven to kill germs, viruses, and bacteria, and has the potential to positively transform healthcare systems. 
Many believe that robots are a long way away, and we want to prove them otherwise. That is 
what our most pressing short-term objective is: to show people that the time for technology 
is now, and we can be the ones to do it.
Tell us about yourself and your background.
I did my PhD in robotics at Trinity College in Dublin, and after I graduated there was an opportunity for me to become an assistant professor when I was 26 years old. During my studies at Trinity, I saw a lot of bottlenecks that were stopping robots from getting into the real world, and I felt that it was an interesting point to focus my research. My goal, then as it is now, is to try and take key technologies, such as AI and robotics, and research their applications so that we can not only write papers, but also have products that can hopefully make a positive impact. Therefore, we focused on integrating robotics into the healthcare system and nursing homes for the first couple of years. Most recently, our robot Stevie is approximately 12-18 months away from deployment on a permanent basis. 
Has your company had to pivot because of COVID-19?
Though Akara has worked attentively in infection control to address this problem in nursing homes, we thought of the infection control issues due to the pandemic as both a responsibility to pivot our work and an opportunity to innovate and grow. To pivot, we took elements of Stevie and mixed it with our infection control research, specifically the application of UV lights as a means to kill germs. Rather than just building a robot, our strategy is to find organizations that we know need improved methods and help them innovate and reinforce infection control by incorporating our robot. 
Additionally, we have reevaluated the deployment of our robot during the COVID-19 pandemic by staying aware of market reactions to Stevie, a social system robot, and Violet, an infection control robot. Instead of focusing on mass production, we have identified a few target users so that we are conscious of our capabilities as a company and avoid a technology pushback. Our flexible and reactive approach has allowed us to adapt to COVID and given us the opportunity to identify our customer base and their problems and pivots due to COVID. Our deep understanding of infection control gives us an advantage over our competitors, who are limited to defined standard operating procedures for their technology.
Akara Robotics is not just selling a robot, we are providing a peace of mind. When our customers talk to us, we are not going to try to immediately sell an expensive piece of equipment. Instead, we will take the time to understand the holistic challenges of infection control in their facility.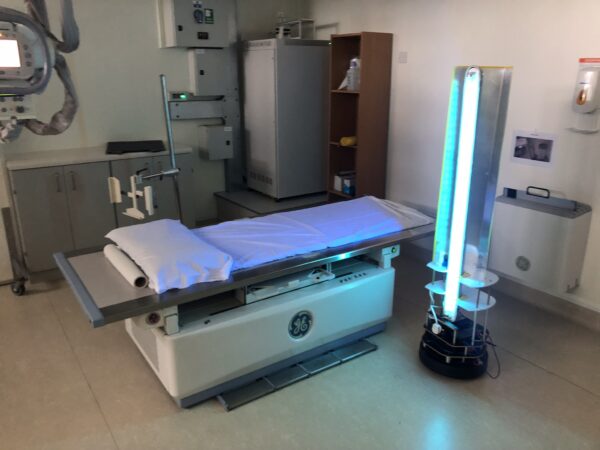 Akara's Violet is shown above. It is clinically proven to kill germs and viruses by utilizing UV light. However, clinical trial postponement is delaying the prototyping testing phase. 
Have you experienced any significant supply chain disruptions due to COVID-19? If so, how have you adjusted to these complications?
Yes, because Akara is based in Ireland, we do not have a road network with the rest of Europe, which has caused quite severe disruptions for our company. Through active management, we have anticipated delays and shortages for critical parts and maintained strategic relationships with local and global suppliers. For example, we are now working with a multinational company in plastic. So, if the manufacturing operation is not possible in Dublin, we can pivot to production in Shenzhen or North and South Carolina. Overall, supply chain disruptions have certainly been an issue. 
Do you have any personal anecdotes about the changing VC/investment space?
I am definitely detecting more caution from investors during the COVID outbreak. Although we had finished our financial projections for Stevie in February and March, COVID upended our negotiations. Therefore, Akara began to reprioritize its strategy to focus on Violet. Broadly, I understand that it is often a 5-7 year commitment in order to see returns in this space. Thus, there are generally few VCs that will be interested in this long-term proposition. As the CEO, I understand that it is my job to use my experience and knowledge to build the right foundation for Akara and help our company navigate these uncertainties. 
Are you partnering with any hospitals? What has your partnership been like with the Irish Health Service?
The Irish Health Service has been a major vocal supporter of Akara from our prototyping beginnings to now. In fact, we are currently in the process of launching our first IHS-funded pilot this summer. We have a partnership with the Irish hospital Tullamore Regional Hospital and are preparing for the first commercial deployment of our robot, which will likely launch in August. Nursing homes and chronic care settings based in the US are also showing interest, as we already have strong partnerships. However, it is logistically challenging to manage international operations due to COVID. By the end of 2020, our goal is to demonstrate efficacy both in hospitals and in nursing homes. 
Do you think your relationships with nursing homes from Stevie has helped in this process?
Absolutely. Although nursing homes are similar to hospitals because they require skilled clinical care teams, the living environment of nursing homes creates a challenging dynamic for infection control. Nursing homes often have difficult surfaces to clean, multi-year patient stays, and large amounts of visitors. Our goal at Akara is to not only develop technology that meets the gold standard in a clinical setting and apply it to multiple settings, but also democratize the infection control system by replicating parts of the hospital system. I think people have overlooked the challenges to cleaning nursing homes, and at Akara, we are not overlooking it.
What's the next step for your company?
We hope to finish Violet and get a CE-mark within the next two months. From there, we want to deploy into the market and garner adoption from hospitals, which is critical for Akara's expansion. Our hope is that by the end of 2020, Violet is working effectively in hospitals and nursing homes to control daily infections and reduce hospital-acquired infections. We also hope to secure at least one multi-center customer that allows us to scale up our production. 
We see VC investment as a means to scale and grow R&D. Many believe that robots are a long way away, and we want to prove them otherwise. That is what our most pressing short-term objective is: to show people that the time for technology is now, and we can be the ones to do it. In the long term, we would like to play a major role in changing infection control methods from both an efficacy and ethical perspective. Our goal at Akara is to demonstrate that robots are tools that can help staff, rather than detract from them. 
Lastly, I believe there is potential to expand into other sectors, but it remains to be seen who is willing to invest in innovation. Places such as airports, public transport, cruise ships, construction sites, retail, banking, hospitality can easily become infection amplifiers. Akara is ready to talk to anyone in those spaces, and we're confident we can create lasting change.
Akara Robotics is not just selling a robot, we are providing a peace of mind. 
How do you see your robots being used in a post-COVID-19 world?
COVID-19 has taught us how poorly equipped our world is to deal with infection. Even before COVID in Ireland, our healthcare system has been struggling to handle preventable infection spread. Moreover, Ireland has an aging population, many of whom have compromised immune systems and frequent the healthcare services. The COVID-19 outbreak should be a wake-up call to anyone considering infection control that new and innovative technology is needed. This is where Akara's role lies. At Akara, we are thinking about the long-term solutions and are committed to a system, not just the technology.
At Akara, we are thinking about the long-term solutions and are committed to a system, 
not just the technology.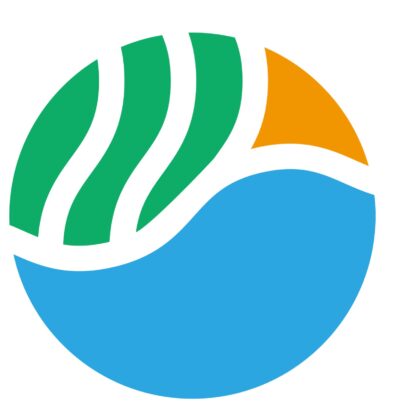 Hunniwell Lake Ventures (HLV) is featuring a series of healthcare startups in the fight against COVID-19 to honor their work and persistence during this pandemic. As a venture investor specializing in medical devices, Hunniwell Lake Ventures is well-positioned to help our colleagues address the COVID-19 scientific complex, patient care, and public health crisis.