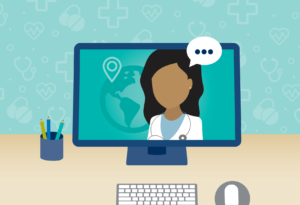 July 27, 2020 || As the world continues to battle the COVID-19 pandemic, telehealth companies are seeing an exponential rise in their client base. However, the rise of Internet-based healthcare comes with its own set of issues and potential concerns.
The Shallow End
Telehealth is on the ascendency due to COVID-19.

Ongoing concerns over quality of virtual appointments, subsequent disputes over compensation and unequal accessibility have been raised.

Sustainability of this growth largely depends on the adequacy of supporting infrastructure.
Read more of Hunniwell's Resources
The Deep End
COVID-19's Effect on the Field of Telehealth
The severe global effects of COVID-19 have led to the rapid expansion of telehealth in the past few months. "Our network saw a 3,400% increase in daily telehealth visits from mid-February to late April", said Athenahealth, a cloud computing provider in the US. Athenahealth's Telehealth technology, launched on June 9th, aims to manage virtual visits through a more efficient workflow. It delivers a fully HIPAA-compliant telemedicine experience and moves seamlessly from scheduling to patient messaging, video conferencing, simultaneous encounter documentation, and billing. In the fight against COVID-19, Athenahealth is one of the many companies that have quickly responded to the sudden market changes and met customer needs.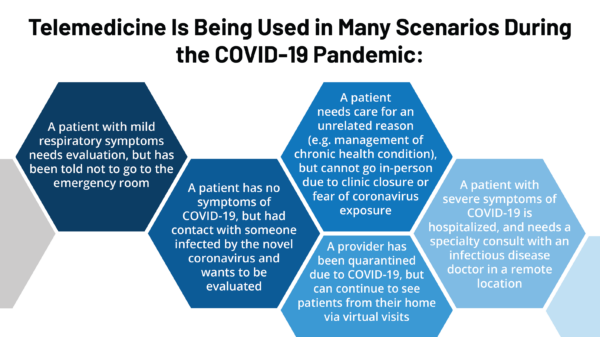 Over the last few months, the barriers to telehealth medicine have all been dismantled as hospital systems see patients avoiding in-person visits due to Covid-19. CMS has temporarily added 135 allowable services that people could receive via telehealth, including home visits, emergency department visits, therapy services, and committed to paying the same rates for virtual appointments as for in-office visits. Additionally, HHS also temporarily relaxed the regulations on the use of communication technologies for telehealth, such as FaceTime, Facebook Messenger, Google Hangouts, Zoom, or Skype, and waived penalties for HIPAA violations if the HIPAA-covered health care providers served patients in good faith.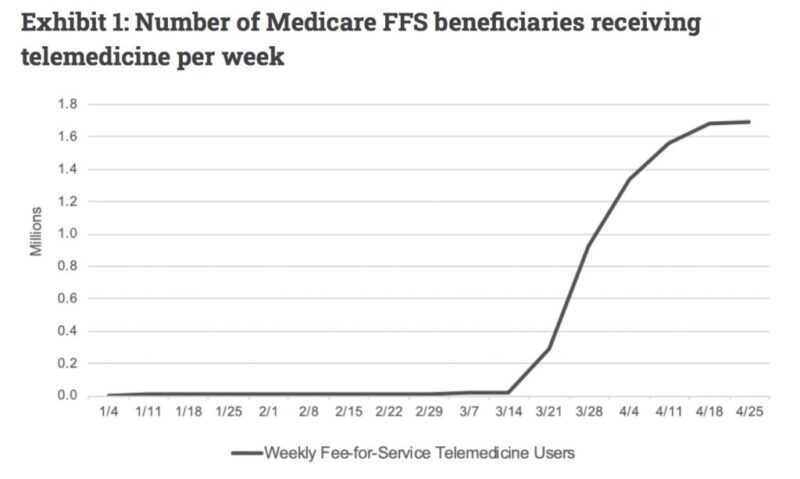 Source: Internal CMS analysis of Medicare FFS claims data,
March 17, 2020 through June 13, 2020 (using data processed through June, 19, 2020)
There is also a rapid increase in telehealth reimbursement compared to just before the pandemic. However, many healthcare providers are still reporting revenues that are below their pre-Covid levels. A lack of consistent policies and insurance coverages can be a part of the reasons. Insurance companies are asking for different codes and modifiers. Many primary care clinicians also find themselves serving as IT support and spending more time on patients who are less tech savvy. According to Athenahealth, there has also been a proportionate increase in mental and behavioral health treatments through telemedicine. With its newly launched telehealth tool, Athenahealth is trying to minimize technical disruptions to healthcare providers' regular workflows under today's new standard of care. Beyond the rollout of innovation like this, a suite of telehealth systems also needs to be built in support.
The evidence supporting the role of telemedicine is strong. Studies have shown that telemedicine
promotes continuity of care, decreases the cost of care, and improves patient self-management and 
overall clinical outcomes… Telemedicine can also help in identifying and preventing treatment-related 
errors between clinic visits. As one example, a number of studies have shown that medication errors 
can be significantly reduced by telemedicine.
— Stephen Agboola, M.D., with Connected Health, an innovation and IT-focused department of Partners Healthcare
In Conclusion
While the pandemic has certainly accelerated the increased adoption of telemedicine, it is unlikely that it will remain at the current high levels of activity going forwards. Hurdles include access to technology and the lack of robust telecommunication infrastructure, explicit terms of liability and insurance, data privacy, quality of care, and integrated telehealth education, just to name a few.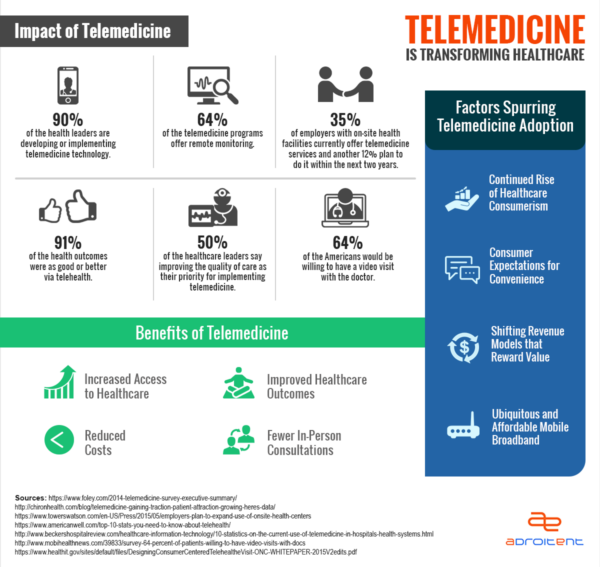 As a result, it is uncertain if the continued expansion of telemedicine is a sustainable post-pandemic. However, there is no doubt that telehealth has already taken a huge step forward during these challenging times and heralds a new era of patient care. With Hunniwell Lake Ventures' dedication to improving the way we "See, Treat and Heal" patients, telehealth presents an unparalleled new opportunity for companies and venture capital firms alike.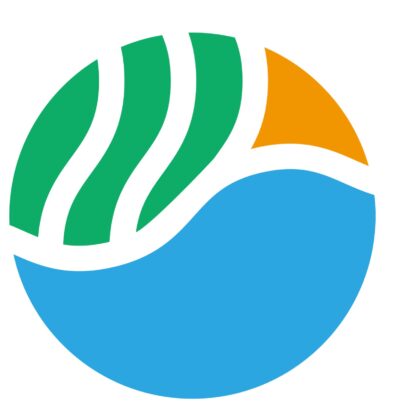 Hunniwell Lake Ventures (HLV) is a Palo Alto-based VC firm that invests exclusively in medical devices. Its mission is to make surgery safer, more accessible and less invasive by investing in innovations that help surgeons visualize the operative field better, employ surgical tools using improved and advanced technologies to treat the patient, and ensure their speedy recovery through the best wound closure and tissue healing technologies available.